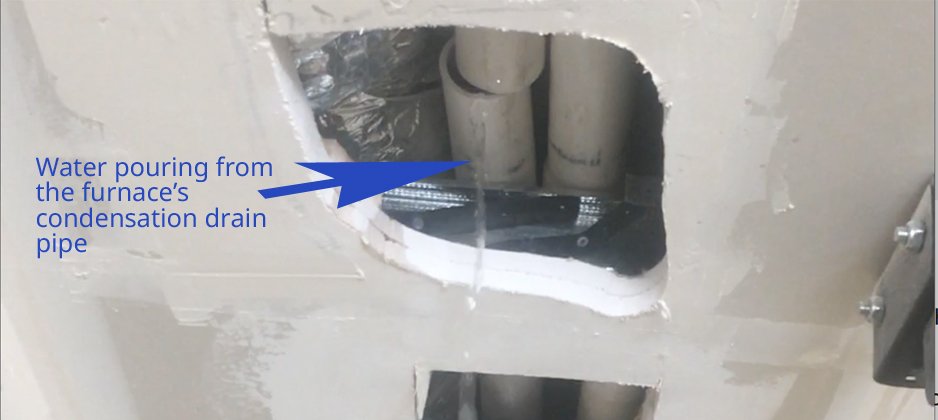 The house was fairly new — only about a year-and-a-half old. The homeowner was noticing that the furnace would shut off automatically before the thermostat temperature was reached. In addition, the homeowner heard gurgling noises from inside the pipe.
Luckily, the homeowner called RC Mechanical. When Sal opened the sheetrock to investigate and cut into the furnace's PVC flue pipe, water gushed out. This isn't supposed to happen!
This was the problem: According to installation instructions for the furnace, the pipe should have sloped at the rate of .25" per foot back to the furnace. Instead, this home's pipe sloped 1" per foot. This created a trap for the water to collect.
This is one of the many problems that can occur as a result of poor furnace installation. When the furnace is not installed correctly, water collects wherever it can. The furnace detects water collecting in the pipes and does a safety shut down, to avoid a dangerous buildup of pressure.
How can you tell if you have this problem? If your furnace turns off prematurely before the thermostat temperature is reached, then it is time to call an expert HVAC contractor like RC Mechanical.
RC Mechanical is an owner-operated Redwood City business and has served the Bay Area with integrity for over 20 years. Call us today at (650) 575-3915.