Fire is a part of the season in California. Fall is the fire season when hot weather, dry plant materials and gusty winds come together to create an atmosphere that is ripe for fire. During such burnings, the air fills with smoke and the sky takes on an apocalyptic hue. The smoke is filled with particulate matter that can get lodged deep in the lungs exacerbating asthma.
Our home is our refuge. We need to make sure that this smoke never gets into the house. Take the following steps to keep smoky air out of your house:
Seal openings with caulk
Sealing openings is the simplest way to keep smoke out of your house. You can use weather stripping, sealant caulk or door sweeps. Weather stripping is a thick tape that seals the gaps around openings of the doors and windows. Sealant caulk fills the gaps created at the time of installation of the doors and windows. These fill the small gaps around the installed area.
Door sweeps seal out the drafts from outside the house. These are installed under the doors.
Get an air purifier
The job of an air purifier is to cleanse the air that is inside your home getting rid of germs, dander, smoke, dust, etc.
Air purifiers use electrostatic filters to attract germs so they can neutralize them. It is important to buy an air filter that doesn't product ozone as a by-product. They use filters to trap dander, smoke and dust.
Use HEPA filter
HEPA is an acronym for High Efficiency Particulate Air. This type of a filter removes allergens, like dander, dust, mold, etc. using multi-layered netting that is made of very fine fiberglass threads. These can capture 99.97% of all air matter that are 0.3 microns and up. These filters require regular replacement. Follow the manufacturer's guidelines.
Use an IQ Air filter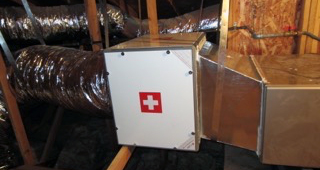 IQ Filter is a brand of filter that is one of the best air filters and hence deserves special attention. These filters can remove particles that are as fine as 0.003 microns with 99.5% efficiency. These air filters give the cleanest air possible. When we installed it in one of our client's home, our client exclaimed that they can now "taste the clean air"!!
Upgrade your HVAC system
If your HVAC is an old system and it requires maintenance or repair often, then it is time to replace your complete HVAC. Having an efficient system will not only improve your indoor air quality, you may also be sealing leaks in the duct system that push dirty air into the house.
Want to improve your indoor air quality? Give us a call at (650) 575-3915 and we'll walk you through your various options.